Grammy Awards - Bodog Odds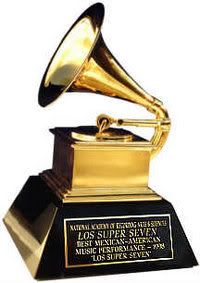 On February 10th, 2008, the 50th Annual
Grammy Awards
will take place at the Staples Center in Los Angeles, California. The show will be broadcast on CBS and air at 8pm EST.
Kanye West topped the list of nominees this year, as his album
Graduation
helped him earn 8 nominations. This will be the third year in which he's had the most nominations, but he's yet to win in a major category - something which has reportedly caused him a great deal of aggravation. No doubt, President Bush is behind it all.
Coming in second place is the always-entertaining Amy Winehouse, who has vowed to enter rehab in 2008 and get cleaned up (ironically, the song "Rehab" was a big hit for her in 2007). Winehouse earned nominations in all three top categories (album, record and song of the year), and she had a total of six nominations in all.
Artists such as The Foo Fighters, T-Pain, Justin Timberlake, Jay-Z and Timbaland all earned 5 nominations each.
Be sure and tune in to see who acts like a fool this year. Will Kanye West go on a tirade about "the man"? Will someone have a wardrobe malfunction? There's just never any telling at the Grammy Awards.
Bodog Odds for the Grammy Awards
If it's a big event, then you can rest assured that
Bodog
will be offering odds on it. Here are just a few categories on which you can wager. Be sure and check their website for the complete list.

Which song will win Song of the Year at the 50th Annual Grammy Awards?

Before He Cheats - Carrie Underwood 11/4

Hey There Delilah - Plain White T's 5/2

Like a Star - Corrine Bailey Rae 3/1

Rehab - Amy Winehouse 9/4

Umbrella - Rihanna 13/4

Which album will win Album of the Year at the 50th Annual Grammy Awards?

Echoes, Silence, Patience & Grace - Foo Fighters 3/1

These Days - Vince Gill 13/4

River: The Joni Letters - Herbie Hancock 7/2

Graduation - Kanye West ½

Back to Black - Amy Winehouse 5/2

Which record will win Record of the Year at the 50th Annual Grammy Awards?

Irreplaceable - Beyonce 3/1

The Pretender - Foo Fighters 3/1

Umbrella - Rihanna 2/1

What Goes Around…Comes Around - Justin Timberlake 5/2

Rehab - Amy Winehouse 2/1

Who will win Best Female Pop Vocal Performance at the 50th Annual Grammy Awards?

Candyman - Christina Aguilera 3/1

1234 - Feist 7/2

Big Girls Don't Cry - Fergie 5/2

Say It Right - Nelly Furtado 4/1

Rehab - Amy Winehouse 5/4

Who will win Best Male Pop Vocal Performance at the 50th Annual Grammy Awards?

Everything - Michael Buble 9/4

Belief - John Mayer 3/1

Dance Tonight - Paul McCartney 5/2

Amazing - Seal 3/1

What Goes Around…Comes Around 5/2

Which album will win Best Rock Album at the 50th Annual Grammy Awards?

Daughtry - Daughtry 3/1

Revival - John Fogerty

Echoes, Silence, Patience and Grace - Foo Fighters 5/6

Magic - Bruce Springsteen 5/2

Sky Blue Sky - Wilco 9/2

For more articles guaranteed to cause Kanye West to have a fit, check out the following:

Lane Garrison Sentenced to Prison

2007 ESPY Awards

Grammy Awards - Bodog Odds