NFL Week 17 - Bodog Odds and Predictions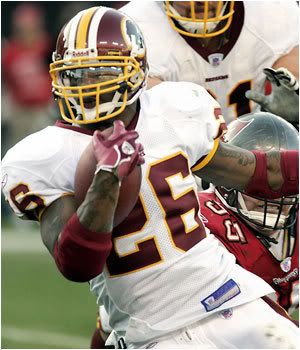 There's only one week to go in the
NFL
regular season, and all eyes are now on the New England
Patriots
to see whether or not they can go 16-0, a feat which has yet to be accomplished in the modern version of the league. They'll have to get through the Giants to do so, but something tells me that they'll be able to pull it off.
In case you're wondering, the following teams have clinched a playoff spot in the NFC: Cowboys, Packers, Seahawks, Giants, and Buccaneers. The other three teams vying for the remaining playoff spot are the Vikings, Redskins and Saints. The Redskins immediately qualify if they beat the Cowboys or the Vikings lose in Denver.
In the AFC, the teams who are a lock to advance to the post-season are the Patriots, Colts, Steelers, Jaguars and Chargers. The Browns and Titans still have a shot at the last spot, and the Titans are in if they can beat the Colts.
RESTING PLAYERS
Also, if you're going to wager on any teams this week, make sure you do a little research and find out which teams will be resting their starters. Teams like the Colts, Cowboys and Chargers don't really have anything left to play for, so there's a good chance that you'll see their second stringers sooner rather than later. Of course, the crazy ass Pats will be starting all their guys to try and have a perfect season. They just better hope nothing happens to Brady.
NFL WEEK 17 - BODOG ODDS
Here are the current odds, as provided by
Bodog
:
Patriots -14 @ Giants +14

Bills +7 ½ @ Eagles -7 ½

Panthers -3 @ Buccaneers +3

Lions +4 @ Packers -4

Seahawks +3 @ Falcons -3

49ers +10 @ Browns -10

Cowboys +9 ½ @ Redskins -9 ½

Steelers -3 ½ @ Ravens +3 ½

Vikings -3 @ Broncos +3

Chargers -8 @ Raiders +8

Rams +6 @ Cardinals -6

Chiefs +6 @ Jets -6

Titans -6 ½ @ Colts +6 ½
DARE TO PREDICT
I went 3-4-1 last week, to bring my overall record to 104-92-11. Here are my picks for Week 17:
Patriots -14
@ Giants +14
Bills +7 ½ @
Eagles -7 ½Panthers -3
@ Buccaneers +3
Lions +4
@ Packers -4
Seahawks +3
@ Falcons -3
49ers +10 @
Browns -10
Cowboys +9 ½ @
Redskins -9 ½
Steelers -3 ½ @
Ravens +3 ½Vikings -3
@ Broncos +3
Chargers -8 @
Raiders +8
Rams +6 @
Cardinals -6
Chiefs +6 @
Jets -6Titans -6 ½
@ Colts +6 ½

For more NFL odds, check out the following:

NFL Week 16 - Bodog Odds and Predictions

NFL Week 15 - Bodog Odds and Predictions

NFL Week 17 - Bodog Odds and Predictions